Get in touch. Let's create something inspiring together!
Learn. Collaborate. Excel.
At Learnnovators, we have a bunch of passionate people who are willing to go the distance. Our team members not only work together, but take risks, solve problems and constantly learn, innovate and contribute to make a difference. This makes our team part of something bigger than just their work, and it goes such a long way!
We encourage our people to:
Speak up
Be open, friendly, and honest
Learn, unlearn, and relearn at every opportunity
Respect even the tiniest of contributions
Keep raising the bar
We regularly recognize and reward great attitude among employees. This stems from our firm belief that the right attitude translates into greater enthusiasm and creativity at work.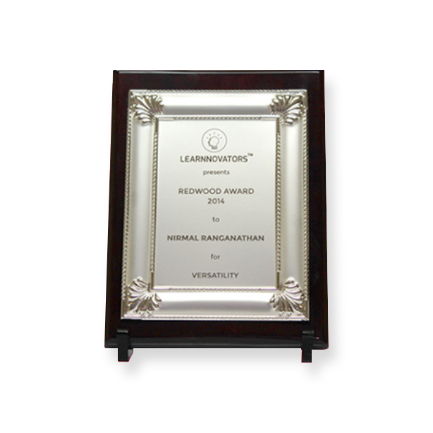 Our Redwood Awards endorse committed, self-motivated employees who work hard at making a difference – be it by way of meeting crazy deadlines, clocking lengthy hours, coming through no matter what, or by even just being their usual flexible, conscientious self. It celebrates tenacious hard work and lofty ambitions. The award also serves as a reminder that great attitude (which some pack along to work) is not everlasting, unless worked upon. Most importantly, the Redwood Award credits both "how you work" and "how you approach your work", emphasizing the fact that while knowledge, skills and abilities help define a person's work, the right attitude (that intangible, cultivated side) defines the person.
Hence, it is no surprise that all the awardees share certain common characteristics – a zeal to grow, ability to realize potentials, ride through difficulties, overcome failures, and build upon core strengths. Like the Redwoods. Hardy, self-reliant, and dependable.
Now, a bit about the namesake of the Awards, the Redwood Tree…
At first sight, the tree completely dwarfs you. A veritable giant, the Redwood Tree it grows from a seed no bigger than that of a tomato, reaching heights of 367 feet and more. Around since the Jurassic Age, with an average life expectancy of over 600 years, its scars and caverns echo a rich past. Its roots go "out" (not down) 900 feet, interlocking with the soil and roots of other trees, as if establishing camaraderie. Fire, disease and pests have failed to conquer it, making it evergreen.
Primeval, resilient, enduring, and majestic, the Redwoods are the inspiration behind our annual Redwood Awards.
"The creative realm isn't the preserve of artists, musicians and writers" alone but belongs to anyone who wants to do things in a better way and also wants to do better things. This is where ideas come in.
Ideas are the currency of life, of the future! Our Learnnovation Awards celebrate exactly this by encouraging employees to sweat their idea muscles and come up with great ideas that leave everyone motivated and allow for competitive advantage.
Like Einstein had famously said, "Logic will get you from A to B. Imagination will take you everywhere!"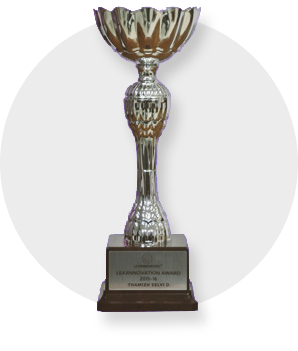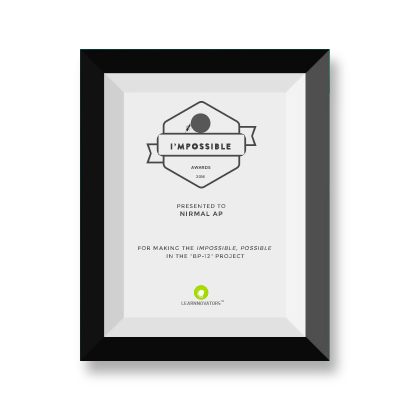 Our I'mpossible Awards acknowledge and reward teams that make the impossible, possible!
Formidable deadlines, challenging specifications, exacting requirements – may sound like the horror of horrors, but there are some who take on big goals and big challenges head on and spin them into amazing experiences for themselves and their clients. We laud such high-performing teams for their unwavering commitment and motivation even in the face of overwhelming and 'impossible' situations. What would we ever do without them?
Learnnovator Of The Month
It's not just about handing over projects on time. Nor is it only about producing high-quality work. It's not about enthusiastically taking up and completing challenges either. It's a combination of all this, and much, much more.
Those are the stars who shine bright in a cloudy sky. Tough and reliable, they come through no matter what.
We recognize and celebrate such gems every once in 30 days.
They are the 'Learnnovators of the Month'.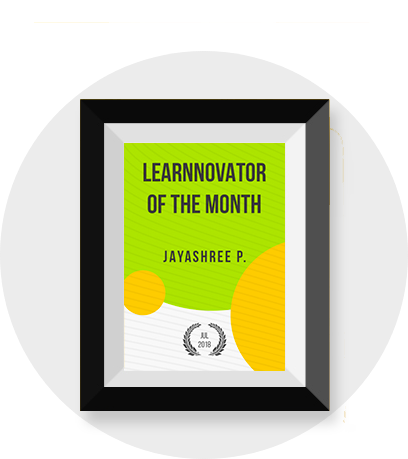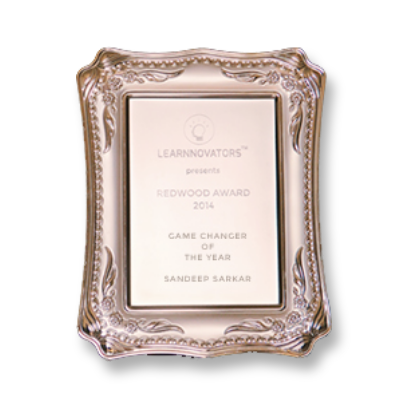 A game-changer is a person who sees something that others don't. They challenge the status quo, move the needle forward, push the boundaries of possibility and transform and rearrange realities which alter the picture.
They are the ones who script the 'a-ha' moments.
Our 'Game Changer of the Year' award is a nod to our very own home-grown wizards, the ones who change the game and not just play it.
Learnnovator Of The Quarter
The 'Learnnovator of the Month' is about celebrating those who are tough and reliable, ticking off on several parameters at once for an entire month. Then what about those we do it consistently for much longer?
The 'Learnnovator of the Quarter' award celebrates these exemplary beings once every three months.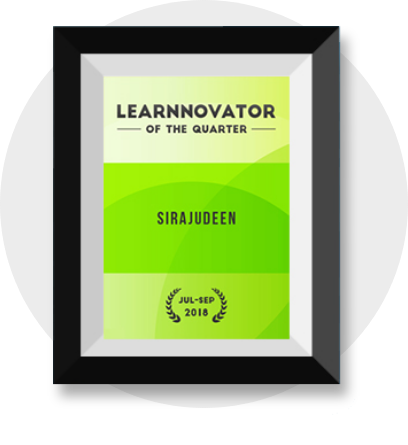 LEARNING and INNOVATION have truly been your mantras; and your third mantra which we, as customers, have always experienced is CUSTOMER DELIGHT.
Shiv Shankar
It was a pleasure working with Learnnovators. The end product we received was above our expectations. I found the entire production cycle to be systematic, professional and of high quality.
I highly recommend Learnnovators for your e-learning needs.
Aparna Desai
Working with Learnnovators in developing e-learning modules has been a pleasure. They are not just a supplier but a highly committed sparring partner.
Signe Skovbo
We selected Learnnovators as our key partner for a large interactive
curriculum project and were absolutely delighted with the quality of their work. Their communication, adherence to project deadlines and overall commitment to the project was also first class. Learnnovators redefined the meaning of 'going the extra mile!
Steve Cox
We have used Learnnovators a couple of times now, and each time they have delivered on time and within budget to the highest standards.
Mike Beadsmoore
Learnnovators shows a great overall conception on the tech information industry and communicates fluently with customers, striving to provide them with the latest tools and means for developing product information. We have been a client to them for four years and received nothing but first-class service.
Pasi Savola
"It was great working with Learnnovators. The team has been able to produce quality work with passion (+patience), dedication and great follow up. If you are looking for a 'partner' and not just another 'provider', and more importantly, people you can trust and collaborate with to meet key objectives and project requirements – you will enjoy working with Learnnovators. I recall our clients telling us our e-learning programs look awesome, work brilliantly and are highly interactive (more interesting than their existing programs). Without Learnnovators' creativity, dedication and support – this will not be highlighted."
Mitchel Quek
Learn more about Learnnovators