Dr. RIMA GHOSE CHOWDHURY WALKS THE POSH TALK WITH LEARNNOVATORS
ABOUT Dr. RIMA GHOSE CHOWDHURY:
As EVP and CHRO, Dr. Rima Ghose Chowdhury leads Datamatics HR functions globally, with operations in the US, India, Middle East, Europe, and the Philippines.
A seasoned HR leader and practitioner with over two decades of experience in Corporate and Academia, Dr. Rima has been instrumental in building Technology and Leadership capabilities in reputed global enterprises like IBM, Sony Pictures Networks India, Quinnox. In her previous roles, she has championed change management in the Technology and Culture space to bring in the right blend of Hi-Tech and Hi-Touch culture.
Dr. Rima has been an International Mentor for Middlesex University London, and is also a trained Trainer by Sony Pictures Entertainment, UK, on 'Energy Project.' She has received multiple HR Excellence Awards, including '50 Most Influential HR Tech Leaders 2015', at World HRD Congress, 'Young HR Professional of The Year' at Asia Pacific HRM Congress 2009. Dr Rima is an avid reader, writer, speaker/moderator, social worker and has authored multiple thought leadership articles.
In her past stint, she held the position of Professor and Head of Department – HR, at NL Dalmia Institute of Management Studies & Research. She also had the additional responsibility of leading and facilitating Management course delivery for the Indian Navy.
Dr. Rima is a Bachelor in Pharmaceutical Technology from Jadavpur University, an MBA from the Indian Institute of Social Welfare and Business Management, and holds a Ph.D. in the Leadership domain from DY Patil University.
ABOUT THIS INTERVIEW SERIES:
Walking the POSH Talk with Learnnovators is an interview series that features outstanding HR leaders who are pioneers of workplace practices that ensure safety, equality, diversity in their organisations. Specifically, these HR leaders share their experiences related to the implementation of Prevention of Sexual Harassment (POSH) compliance within their workplaces.
Join us on this exciting journey as we learn from their successes, as well as their setbacks and challenges, and seize the opportunity to hear their unique perspectives on the subject.
This initiative is part of Learnnovators' commitment to helping organisations in India make their workplaces safe for their women employees.
THE INTERVIEW:
1. LEARNNOVATORS: Datamatics is a technology company that has been empowering the world with intelligent solutions that can help automate businesses. It's a pleasure to have you, a senior member of the organization, to discuss your experiences eliminating sexual harassment at your workplace.
Being an organisation that values the safety and well-being of its employees, how do you go about making your workplace safer for your employees (especially women employees)? What were your struggles and how were you able to overcome them? In short, how has been Datamatics' POSH journey been so far?
RIMA: At Datamatics, we have always had a safe and inclusive workplace, which has reflected in an above industry average of 40-42% women in the workforce. Over a period of time, we have reinforced the aspect of safety in various ways, by following all Govt regulations, guidelines and much more. We believe our strength lies in our differences. It is what makes us unique and brings together the best in each one of us. With this belief, we started working towards building a more diverse and dynamic workforce, since complex problems need diverse solutions. 'Respect for the individual' has long been part of our value system, and there are regular reinforcements through online campaigns for various locations across the globe. Our programs, HR processes, policies and even our infrastructure reflect the same ethos.
While we continue to focus on bringing in more and more women on board at DGSL, we actively work towards making DGSL a great place to work for all the women employees working with us. This is even evident in lower attrition percentages among women. Currently, 18% of our Management team constitutes women, reporting directly to the CEO. Women heading key functions in the organization does pass on a message about the core belief of being an inclusive equal opportunity employer across all levels leading to increased diversity. The increasingly healthy ratio holds true even in our offices in tier II cities (some having a ratio of 45:55), it is a matter of pride for us. We are constantly creating new cadres of women leaders in-house, in cutting-edge technology and other areas, so it is a continuous journey for us. In this journey let me also mention about the Datamatics flagship program Eagles, which focuses on developing next-gen leaders in-house by bringing the best from each department and creating cross-functional teams that are mentored to achieve specific business goals. Over time, we have seen a steady increase in participation and selection of women, and now they make up 25% of Eagles participants as compared to 5%, 6 years back.
We have been conscious about the ecosystem. Whenever we have even sensed any reservation in male employees about reporting to women managers, our Diversity champions, leaders in the organization have addressed that. Much before anything would turn into a complaint, we have addressed issues of unconscious bias and nipped them in the bud. The good thing is, society has also changed to a great extent, with gender barriers significantly dissolving with time. This year, our CEO Mr. Rahul Kanodia has been recognized as a 'Gender Champion' by UN Women, for 'walking the talk'. Here is a graphical representation of our journey, over the years.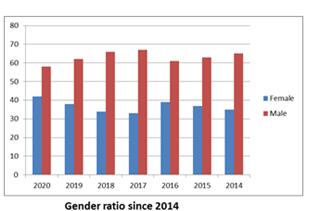 2. LEARNNOVATORS: In a recent post, actress Margot Robbie says she didn't fully understand the meaning of sexual harassment until she read the script of her new movie "Bombshell". There are a huge number of young employees who are not even aware of what constitutes sexual harassment at work, and the options available to them for redressal. This reiterates the fact that creating awareness is the most significant step in any POSH initiative. What kind of POSH awareness interventions have you been carrying out in your organization? What mechanisms are in place to encourage discussions around sexual harassment? What methods would you recommend for other organizations who have just got started or are planning to get started?
RIMA: Long before digital became a 'buzzword', we have made a POSH training course readily available on our e-learning platform eShiksha. In the entire employee lifecycle, we have the POSH principles being reminded to employees continually and affirmative actions are taken. We do have an ICC in place and we regularly arrange for knowledge updation for managers and even for ICC via various internal and external POSH trainings. The external member of ICC is an independent expert, an Advocate appointed by the Legal team. The external ICC member is part of the committee through a paid contract that is renewed every year. We do not engage pro bono services.
The POSH policy is available on our Intranet Pulse – both in the Policy section as well as in the Employee area, which features the latest happenings in the Company. All new joiners are encouraged to complete the POSH course on e-Shiksha during the induction with HRBP and the completion certificate is shared for client site employees with some clients who are serious about ensuring the entire supply chain walk this path. We pride ourselves on being declared fully compliant, every time we are audited by a client on the POSH compliance.
3. LEARNNOVATORS: To quote this New York Times article, "Women are living in a world that's made for men. Whether it's the cars they drive or the medicines they take, they've almost all been developed with men in mind. And that can have life-threatening consequences for women." At the same time, we are also inspired by this news that talks about how Unilever has achieved 50/50 gender balance across its global leadership team. Interestingly, we also see other organizations such as Etihad Airways following suit by pledging to increase its female workforce over the next few years. In this context, we note that you attach a lot of importance to diversity and inclusion not only in your workforce but also in your leadership team. How do you help realize Datamatics' vision of making your workplace not just safe but also inclusive for women? What would be your message to inspire companies to make their workplaces inclusive?
RIMA: 'If our toolbox only has a hammer, we can only solve problems that involve nails'…. so, diversity is not a feel-good factor, it is a business agenda. Only a policy on POSH cannot make the workplace inclusive. The intent and vision of the Company need to be weaved with the prevailing people practices at every step of the employee life cycle.
At Datamatics, we have a four-pronged approach a) Attract & Hire b) Engage c) Encourage d) Retain, which imbibes our Diversity core.
a. Attract & Hire – Building a Diverse Talent Pipeline: In the last 2 years, approximately 30% of all our job offers have been to women. In 2019, as part of our focused high-skill IT campus hiring, 31% were women. In our flagship cadre building program aimed at building the talent pipeline for our Sales team, we had a 50:50 ratio of young female to male graduate executives. Most of our offices have infrastructural provisions in place such as ramps that allow access through wheelchairs, specially designed and designated toilets, handrails and restrooms which have supported and encouraged the differently-abled to be part of Datamatics.
b. Engage: Majority of our HR Business Partner teams across locations comprise of women, which makes it comfortable for women employees to easily approach and share their concerns/grievances, if any. Our strategic global locations like US, Philippines are led by women HR heads.
We discourage women to sit late at office, and in case they have to travel back to a faraway location, the reporting manager and concerned HR team ensure that the employee has the required cab support. We do not permit leaving office premises without known escort or vehicle post 10 pm. We have sickrooms at most of our offices for employees to rest for a while. We have regular health & hygiene sessions for women titled PINK, conducted in-house, in collaboration with the L&D team.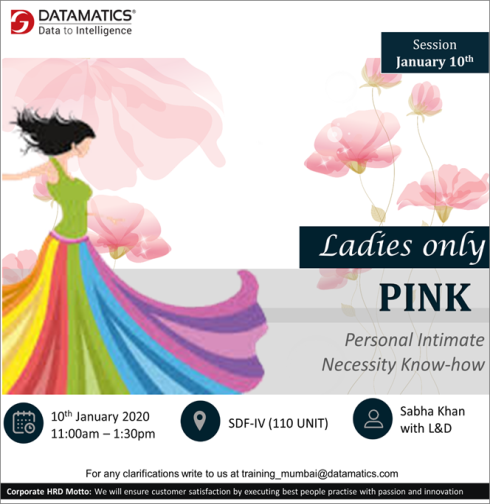 We also have yoga and other wellbeing sessions, self-defense and safety sessions all by trained instructors. Every year, we celebrate Women's Day across all locations of Datamatics with a lot of enthusiasm, positivity and dignity, wherein, the efforts taken by every female employee (including the housekeeping staff) are appreciated personally by the Senior Management team. Along with regular year-round activities, there are special sessions conducted at every location which are a mix of safety/health and fun for all women employees.
c. Encourage: We believe in regularly recognizing our employees' efforts towards achieving organizational goals and 46% of all our instant recognition awards appreciate and reward women globally. Datamatics Annual Achievers Awards (AAA), the annual event to recognize top talent across the Datamatics Group companies had 34% women as recipients. As part of the flagship cadre building program, we have sponsored MBA for the participants and there too achieved a 50:50 female to male ratio. In our iCertify initiative (2019) of having Datamatics certified professionals, 39% were women, and they were felicitated during 'Euphoria' monthly meets by their Function Heads. Women employees have consistently made up 38% of all our training initiatives for the past 3 years.
d. Retain: We encourage constructive conversations and follow an Open Door policy, wherein any employee is free to walk up to the CEO and CHRO for any guidance or support through any phase. We have had multiple cases where Senior Leaders have guided and mentored women employees during various career stages. All our women leaders, managers and domain specialists are encouraged to participate in Industry forums on a regular basis, be it NASSCOM, Forester Predictions, UN Women block chain, SHRM summits, Indian Express, Thomson Reuters Asia Panel, educational conclaves of IIMs and IITs. Opportunities to widen their horizon, even outside of their immediate work area, enrich the women professionals and also help enhance the brand image of the Company.
Employees have been given the flexibility to plan their workday with their manager to accommodate their worries of travel (especially in metro cities) and ensure better work-life balance. The Office timing policy allows flexibility on a daily basis as well as in shifts. Even before COVID struck, we had a formal Work from Home policy for eligible employees (based on the nature of their work) by providing increased flexibility to fulfil personal and professional goals.
We are aware that for a woman, her professional peak and motherhood journey may have a conflicting schedule, and hence we provide as much help as possible. Maternity leave as per law, clubbing of other leaves (general & privileged leaves) with maternity leave is permitted, and in case of any major medical issues arising during pregnancy, additional leaves are approved. We have a long-standing adoption maternity leave. Paid 5 days paternity leave is granted to all male employees who have been blessed with a child. This is our way of ensuring support to the extended family, i.e., a Datamatician's spouse who has just experienced motherhood. Overall in the last 5 years, close to 75% of women continue to work even after 6 months and 60% of women employees who have taken a Maternity break have resumed office and continue to work with us till date.
The process of rejoining work after maternity leave can be very daunting for a new mother, hence we express our appreciation and make her transition as easy and smooth as possible. Post maternity leave, when an employee joins back, a "Welcome back" placard is placed at her desk along with a card signed by HR appreciating her contribution and decision to join us back. Business HR connects with her so any concerns/doubts that she might have can be resolved proactively. This warm welcome helps her ease back into her role, adding that positivity, sense of support and confidence which makes a world of difference. This has also added to the confidence of the other women at the unit that "working after a kid, can work" and we as an organization welcome it! We have globally welcomed more than 30 women since launch, and also during the ongoing remote working scenario, thus, being Socially Distanced yet Mentally Connected with all of them.
4. LEARNNOVATORS: When it comes to POSH initiatives, people in key positions can not only influence those within their organizations but also inspire the outside world to take action. In this context, it is inspiring to see messages (such as this one from Anand Mahindra) that advocate taking a firm stand to ensure a zero-tolerance policy against sexual predators at workplaces. What is Datamatics' tolerance policy on POSH? How engaged is your management in influencing your POSH initiatives? What would be your message to people in key positions to walk the POSH talk?
RIMA: At Datamatics, the 'Code of Conduct' policy outlines the code of conduct at work and clearly defines a 'Zero Tolerance' principle towards any discrimination at the workplace. Equal pay and meritocracy are the principles for all hiring and career progression related decisions. The Code of Conduct and Prevention of Sexual Harassment Policy are part of the Employee and Manager Orientation Portal. The best way to propagate the message of zero tolerance is to keep reinforcing it, and make it a part of communication campaigns across the organization
5. LEARNNOVATORS: It is inspiring to know that Datamatics has joined the global network of Signatories, for Women's Empowerment Principles (WEPs) established by UN Global Compact and UN Women. As a company that believes in changemaking, not just by talking, but by walking the talk, we would like to have your thoughts on the recent view to widen the scope of the POSH Act to also include harassments related to gender bias (discriminatory acts that may not be of a sexual nature) happening at workplaces. Since we do not have any specific legislation for preventing or redressing these types of harassments, would you agree with the suggestion? If not, based on your experiences at Datamatics, how do you think a system can be established within the country to help women handle these challenges at work?
RIMA: As I said, Diversity is a business agenda, and hence issues of gender bias, conscious or unconscious, need to be dealt with seriously. Spreading awareness around these issues will not only reduce discrimination, but also make women aware of their rights. It is perhaps a rare occurrence that a CHRO and Head of Data Sciences of a technology firm collaborated on original research work to understand factors that enable inclusion and ascension of women leaders. Driving change in the organization becomes much easier when business and HR join hands. At the '7th National Conference on Diversity and Development', Tata Institute of Social Sciences, the paper was presented on 'Contributing factors for inclusion and ascension of women leaders in Indian corporates', co-authored by myself and my esteemed colleague and ISI/IIT Alumnus Dr. Bikramjit Chaudhuri, SVP and Head of Data Analytics.
The research pointed out that an important enabling factor for women leaders is Resilience at Work. Very recently during the lockdown, we had an external Psychotherapist take our women employees through a holistic approach that can make them more emotionally resilient and better equipped to manage life, and the workshop garnered widespread appreciation. We intend to do more of these in the coming months.
6. LEARNNOVATORS: As we understand, Datamatics recently organized a special workshop 'Emotional Resilience in Covid Times,' for all women employees and their family members. It is inspiring to know how obsessed Datamatics has been with ensuring the emotional resilience of your women employees to help them handle the crisis. However, we would like to have your views on the school of thought that advocates for ensuring equal opportunities for people of all sexes to air his or her grievances, thereby ensuring real diversity at workplaces. Would you agree to the thought that our present POSH act, which is not gender neutral since it protects only women, is in dire need of a makeover? Why / why not?
RIMA: A gender neutral policy is better, since so often the tendency to harass can stem from a power pedestal. Be it any gender, there could be someone taking advantage of positional power to harass a colleague. While our workshop was aimed at women employees, all employees, as well as their families, were encouraged to be a part of it.
7. LEARNNOVATORS: We believe that just like any other training, sexual harassment training too must be "aligned with the times we're living in" to resonate with today's learners. How successful have you been in revisiting your POSH training to accommodate the preferences of today's learners in your organization? What strategies do you find working well, and what not so well?
RIMA: The times we are living in are very demanding, in every sphere of life. We realize that time is a rare commodity and hence 'convenience and at own pace' are the two mantras that drive learning for employees of today. Our e-learning format works very well and hence through all our internal awareness campaigns, we try to leverage the usage of it and we have found a good response.
8. LEARNNOVATORS: As we understand, Datamatics is quite obsessed with leveraging the power of Augmented Reality (AR) and Virtual Reality (VR) for training purposes. To quote William West, Vice President – Immersive Learning Solutions at NIIT Limited from this interview, "…what we're able to do with the VR is actually stick them in the shoes of an individual who's in the scene…These are things we couldn't do just on a flat screen in any learning it's pretty spectacular." How do you look at leveraging the power of Virtual Reality to build empathy in effective harassment training? If you are already into this, what are your experiences in this regard? And what would be your advice to others who would like to get started?
RIMA: We have used AR/VR to solve business problems for clients but have not yet leveraged the power of AR/VR in training programs around prevention of harassment. We have discussed the possibility of AI bots detecting trigger words around harassment but there is a broader cultural connotation in conversations, which could be a limiting factor for AI algorithms. We are open to exploring, but we feel there can be no substitute for a strong HR team and human connect, which is capable of detecting issues on the ground and addressing them.
9. LEARNNOVATORS: To quote from this post, "A lot can go wrong in virtual social spaces, and problems are well-documented. People have been harassed and virtually groped—in VR. To the victim, virtual harassment can feel as real, and as painful, as real-world harassment." It looks like we would soon see a POSH law enacted for virtual workplaces too. Do you agree? As the Human Resource Head of a leading technology company, how would you look at the role of technology in empowering us to handle this human resource challenge in virtual workspaces of the future?
RIMA: Technology can definitely play an important role to empower employees as they voice out concerns, but we have not yet come across harassment issues in the virtual world. The provisions of POSH can be modified to address concerns of the virtual workspace as well.
10. LEARNNOVATORS: With respect to our workplaces, we are sure you would agree that it's important for everyone to join hands in making our country and the world a safer place for women. Though it is inspiring to know about your efforts to promote diversity and inclusion at your workplaces, how do you think Datamatics, as a technology company that carries a strong corporate social responsibility, is also contributing towards making workplaces in our country free from sexual harassment? What is your vision to help create a more gender-equal world? Being a senior member of the management, can you share some thoughts on this from an organizational perspective, please?
RIMA: It was a proud moment for us to be recognized by United Nations Global Compact Network India, for taking the idea of Gender Equality: Goal No 5 of UN Sustainable Development Goals (SDGs), to new heights. We extend the concept of Diversity not only to Gender but also to Generation, Qualification, Culture, Experience, Ability, Thoughts and Opinions, to build an inclusive workplace. Datamatics remains committed to the cause and supports UN in its agenda to create a gender-equal world.
My idea of a gender-equal world is where we do not have to spell it out and meritocracy automatically rules, without any kind of discrimination.
We refer to WEP's gender gap analysis tool from UN Women and UNGC, which acts as and guides organizations to undertake the journey from principles to practice. Some of the principles which are helping us and can help other organizations too, in this journey, are as follows:
Have senior leadership commitment and support for gender equality and women's empowerment, in our case, as reflected in Datamatics Diversity Charter (DDC).
Have a non-discrimination and equal opportunity policy in place and make it visible to all.
Offer and support paid maternity and paternity leave, and associated flexibilities so we do not see a drop in women workforce (usually post childbirth is a taxing phase for women to manage dual pressure of new motherhood and demands of the job).
If possible, create part-time employment opportunities that support the flexibility needs of employees as parents and caregivers, e.g., in our Nasik location, we offer roles to people with high flexibility needs.
Accommodate the work/life balance of all employees. In the recently concluded Climate Survey exercise at Datamatics, the larger section of the workforce feel that they enjoy a good balance.
Formulate an approach to address the specific health, safety, and hygiene needs of women at work, e.g., the initiative PINK which personally empowers our women employees.
Have an approach to ensure that it is not only about their physical safety and wellbeing, but also emotional health, which can make them stronger professionals ready to take on the competitive corporate world.
Above all, at every step of the way, it is important to assure women that their dignity and rights are important to us.
LEARNNOVATORS: Before we sign off, we'd like to thank you so much for your time today, Dr. Rima. We've had an amazing time listening to your insights on dealing with workplace harassment. We are confident that the community will immensely benefit from these takeaways. Thank you!
(Visited 92 times, 1 visits today)