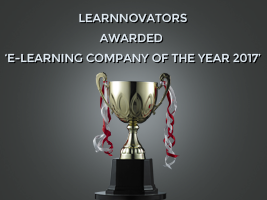 LEARNNOVATORS AWARDED "E-LEARNING COMPANY OF THE YEAR 2017"
We, at Learnnovators, are honoured and delighted to be awarded "E-Learning Company of the Year 2017" by The CEO Magazine.
In its annual special edition titled "Companies of the Year 2017", The CEO Magazine recognized "outstanding companies in India from various industries which serve as inspirational role models for the industry, as well as for the Indian and international business communities."
The magazine's editorial goes on to add that "this effort is a list of India's most promising companies in terms of their revenue growth, work culture, employment opportunity, products and services, and many more."
"Company of the Year Award recognizes not only the companies' performance but CEOs also, whose performance from the previous year has been outstanding. The award aims to highlight and honour CEOs whose influence and stewardship of their organizations' financials has resulted in value and success for the company's shareholders."
Says Ravi Pratap Singh, Co-Founder of Learnnovators, "This award is truly a matter of great honour and pride for Team Learnnovators, and motivates us to strive harder and scale higher peaks in the days and years ahead!"
About The CEO Magazine
The CEO Magazine is one of India`s leading monthly magazines which is published from New Delhi. It focuses on emerging as well as leading companies in the industry, and keeps a watch on the ones that are fast-growing and promising, both from revenue and employment perspectives. It is also a medium for top-level executives to share their experiences and challenges, thus making it a go-to source of information and inspiration for the startup community.
(Visited 76 times, 3 visits today)